The Newtonville Books questionnaire.
–Name a childhood hero.
Artemis
–Name a work you wish you'd written.
King Lear. But I'd be happy with An Artist of the Floating World or Cloud Atlas.
–Name some of the original working titles of your work before it was published.
When Last I Saw You
–Name a writer in history of whom you would like to have been a contemporary of and why.
If I were a man and an Athenian, maybe Euripides and his circle. Fifth-century Athens was an interesting place to be, plus it's near the Aegean.
–Name a work of yours whose reception you've been surprised about and why.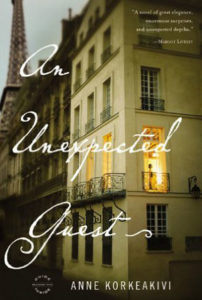 It surprises me when people hone in on the dinner party in An Unexpected Guest rather than one of the novel's themes, such as conflicts between past and present, private and public, or the shifting sands in global life post-9/11. But there seem to be many ways to read and enjoy the novel, and I love that.
–Correct a misperception about you–as a writer or a citizen–in fifty words or fewer.
Anyone thinking I am married to a diplomat and lead a life like Clare's in An Unexpected Guest would be mistaken.
–Name a trait you deplore in other writers.
Deplore is a harsh word, but I don't appreciate being lectured to by writers of fiction, even when I agree with their beliefs.
–Name your five desert island films.
Wouldn't it be too bright? Would there be an electric plug or battery recharger?
–Name a book not your own that you wish everyone would read.
I recently read Dinaw Mengestu's The Beautiful Things That Heaven Bears and have been pressing it on people ever since.
–Name a book you suspect most people claim to have read, but haven't.
Does the U.S. Constitution count?
–If you could choose one of your works to rewrite, which would it be and why.
All of them, so thank God that I can't.
–Share the greatest literary secret/gossip you know.
The popular English children's author Lucy Daniels is just the brainstorm of a guy in NY named Ben.
–Name a book you read over and over for inspiration.
I really only read poetry, Shakespeare, and Greek myths over and over, but I do keep Things Fall Apart by Chinua Achebe on my bedside table.
–Name the writing habit you rely on to get you through a first draft.
Self-discipline, from years as a freelance journalist
–Name a regret, literary or otherwise.
No regrets
–Name your greatest struggle as a writer.
An arcane, out-sized instinct for privacy
–Name a question you get about writing to which there really is no good answer.
How long it has taken me to write something. It's just not that tidy a process for me.
–Name a question you wish you had been asked.
Whether I'd like to join Michelle and Barack for dinner at the White House?